Fossils & few Flowers
We live in an area that some call "the barren wasteland." Flat cash crop land that is thankfully interrupted with a small bush (woodlot, for you Americans!) here and there . The odd ditch, or maybe a river is a novelty.


Not that this bothers me...I kind of like it (or am comfortably used to it). It's small town rural Ontario, and so are the people - Alice Munro's short stories nail it good.
But we have very few things that we can brag about here. There are the oil museums in Petrolia (where oil was discovered first, believe it or not), Lake Huron, Erie and Ontario (and Niagara Falls) all within a couple hours of here (can go for a swim in half hour if we want), and then there are the fossils of Hungry Hollow and Rock Glen. This is the most wonderful place to visit and is located within 10 minutes of our home.
Saturday was a beautiful day - actually it would have been THE perfect day to go to the fossil pit, except that we had had a major downpour the night before. Why is this a problem? Well, we are walking on clay - slippery clay. We wore rubber boots...couldn't believe we were that smart for once.
Even flat ground was tricky.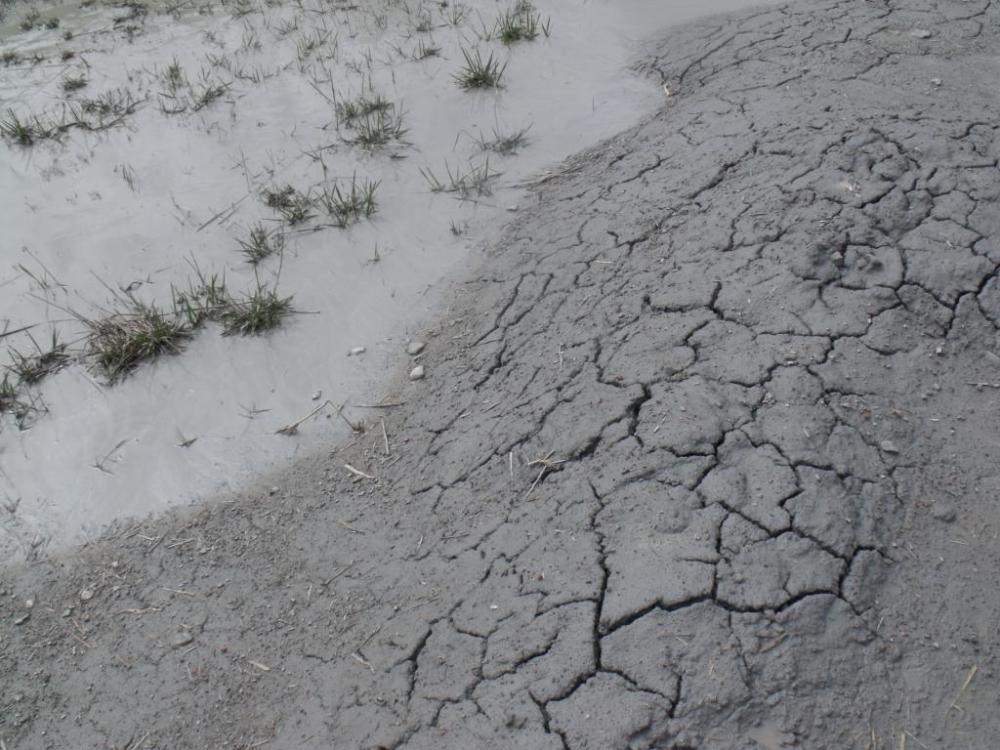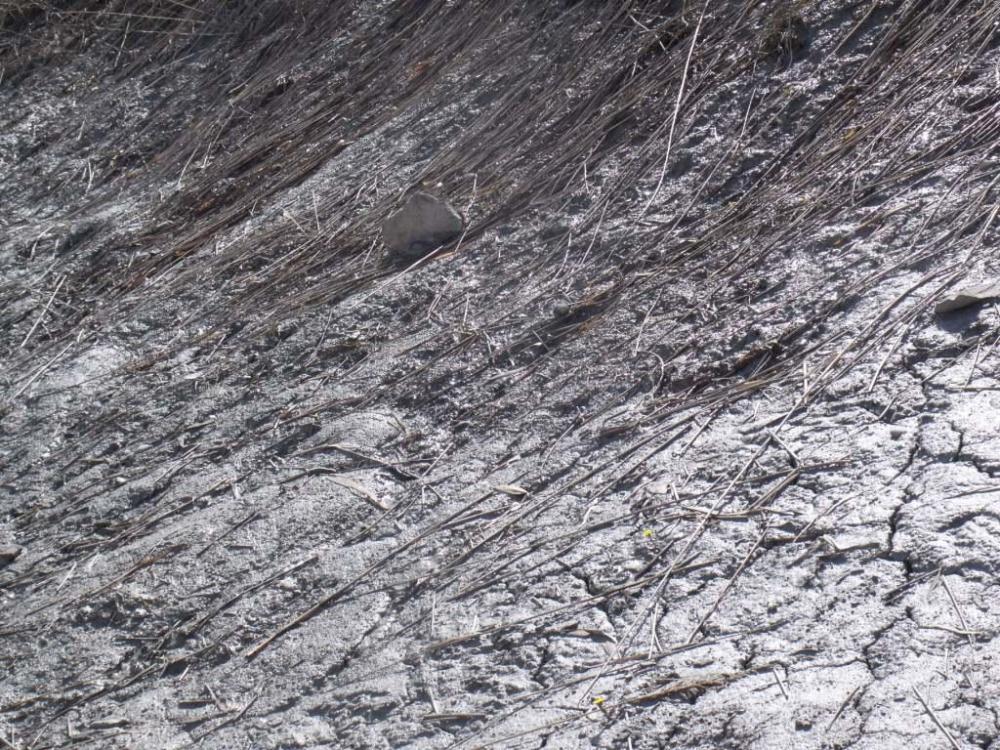 This is the first clay pit we went to. The clay is still 'mined' for pottery etc. I always lugged a bag of it home with me when I was a kid, made some weird toothbrush holder, that quickly broke because it wasn't fired. But it was fun!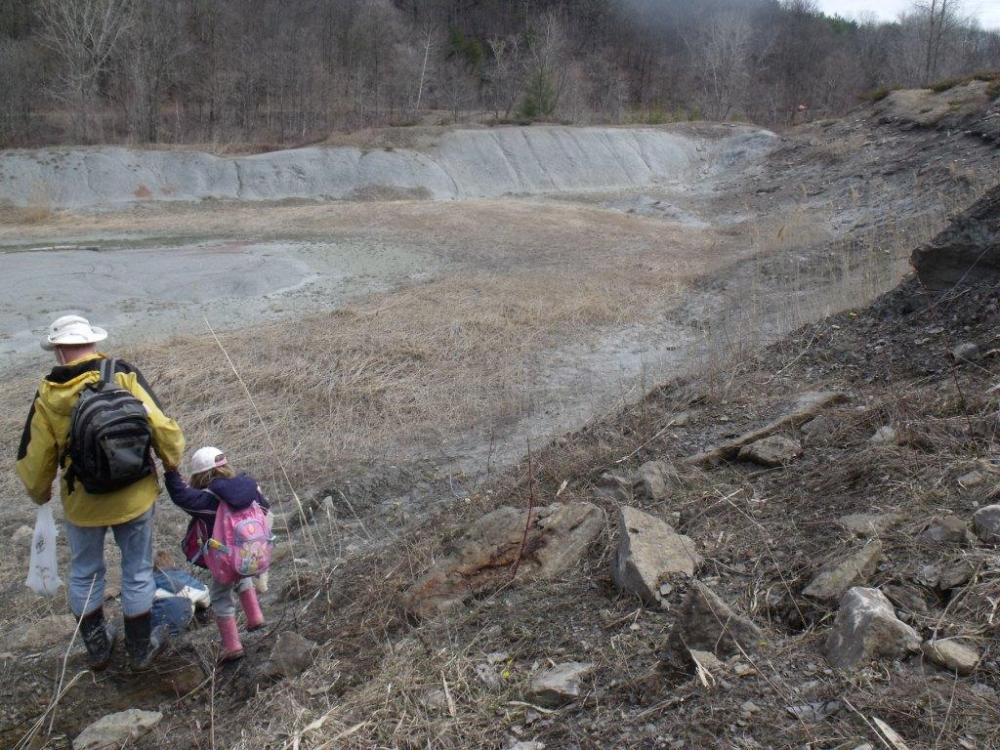 Here's the goods: you basically are walking on fossils everywhere you go.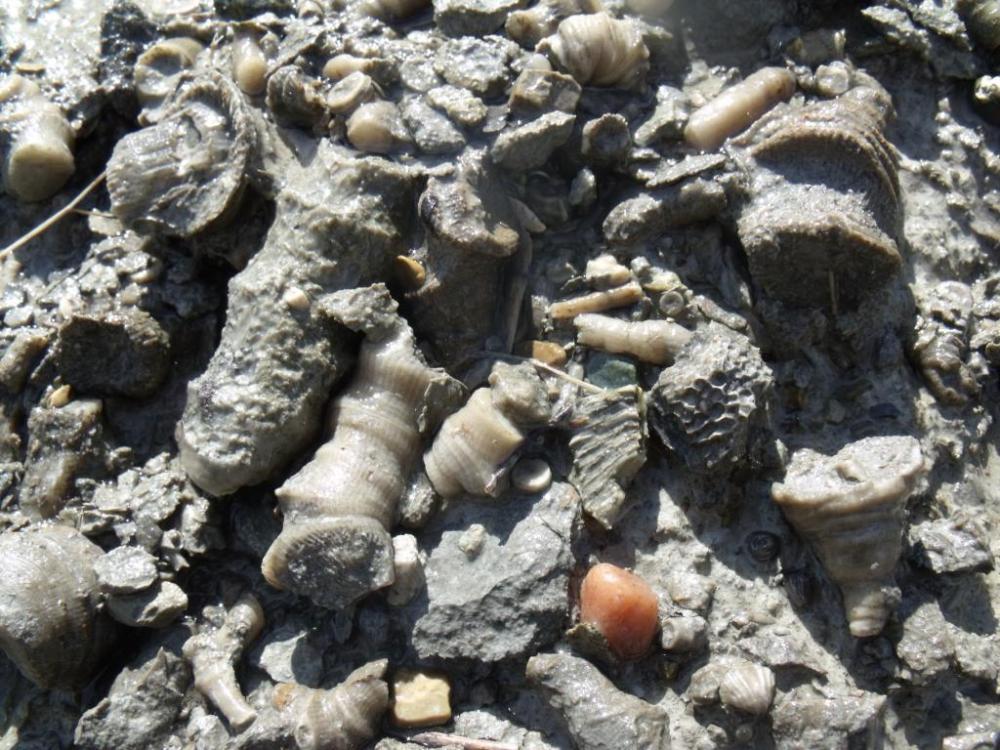 You can see why our kids (and us) go nuts looking for fossils. Not too much different than looking for alpine plants in the mountains...right? Horn coral everywhere - some are huge.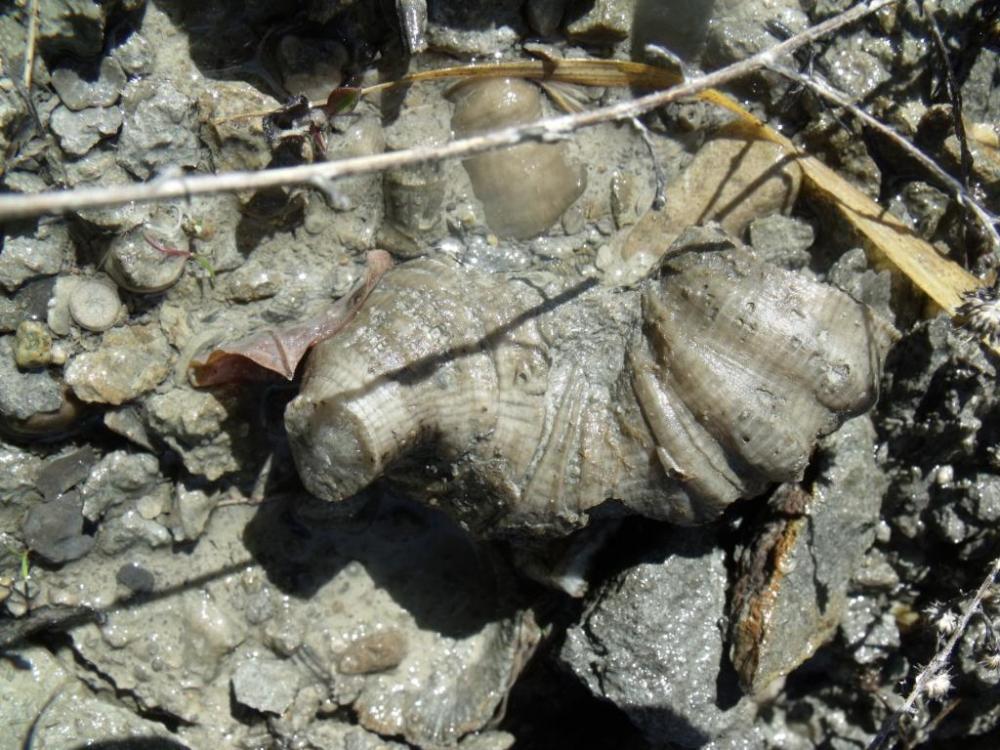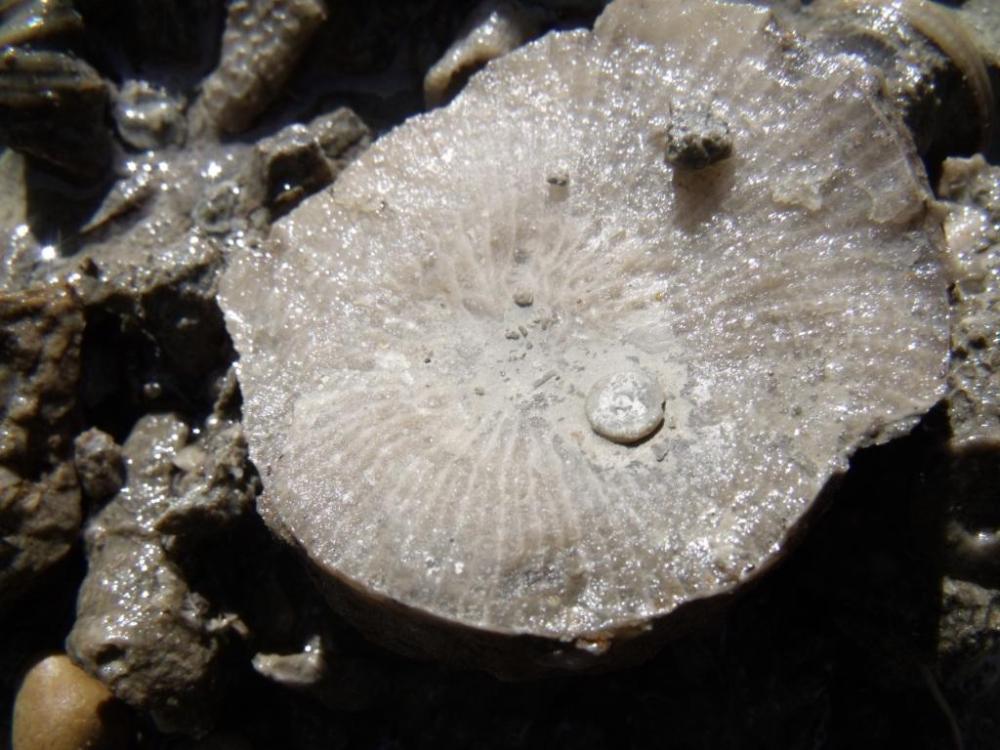 To get back to the car my boy decided to walk UP a slippery clay waterfall. I thought for sure he would slide down, but he proved me wrong. My daughter stands in front of another clay pit/pond on the other side of the Ausable River.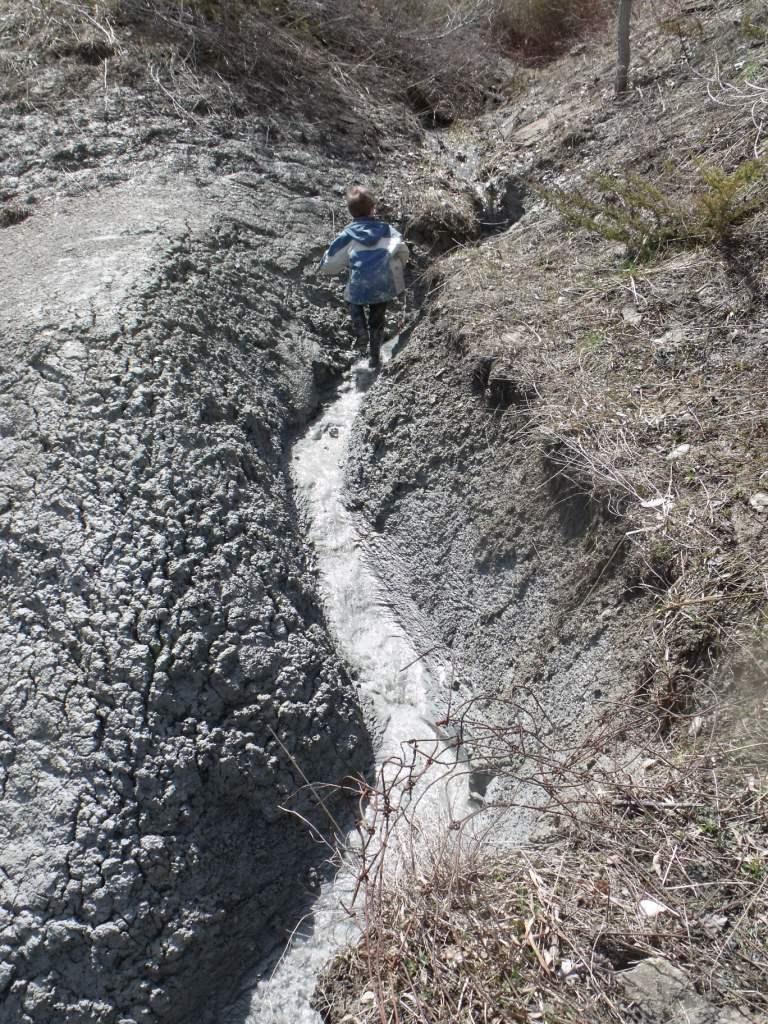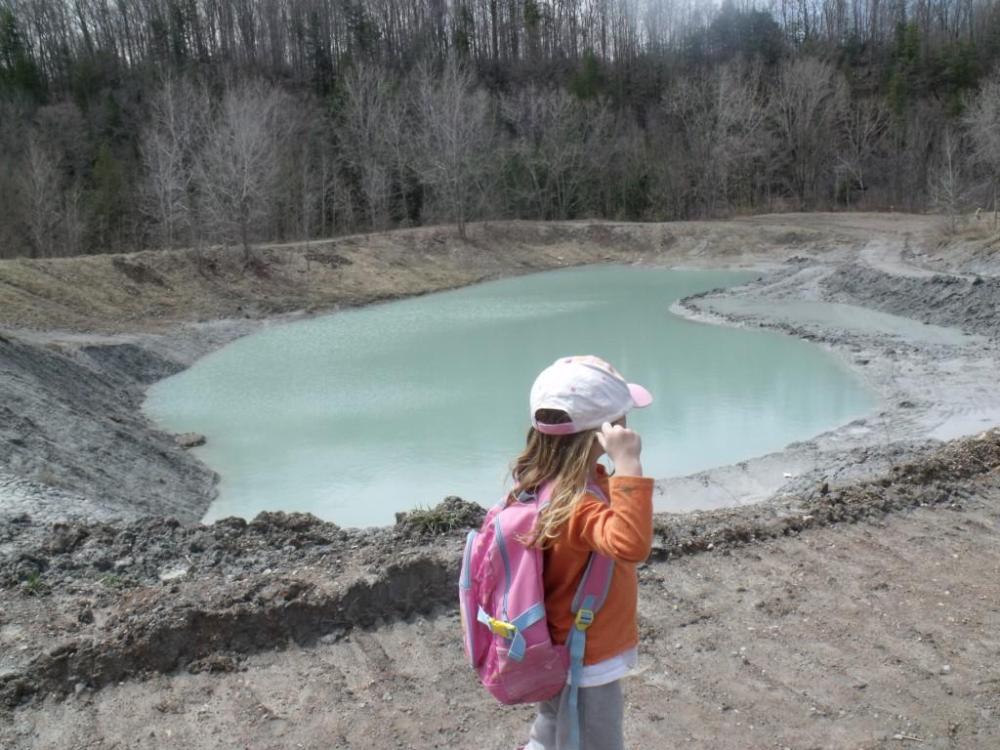 ">
The Ausable River rushing. Usually it is clear, calm and beautiful - this was a muddy torrent.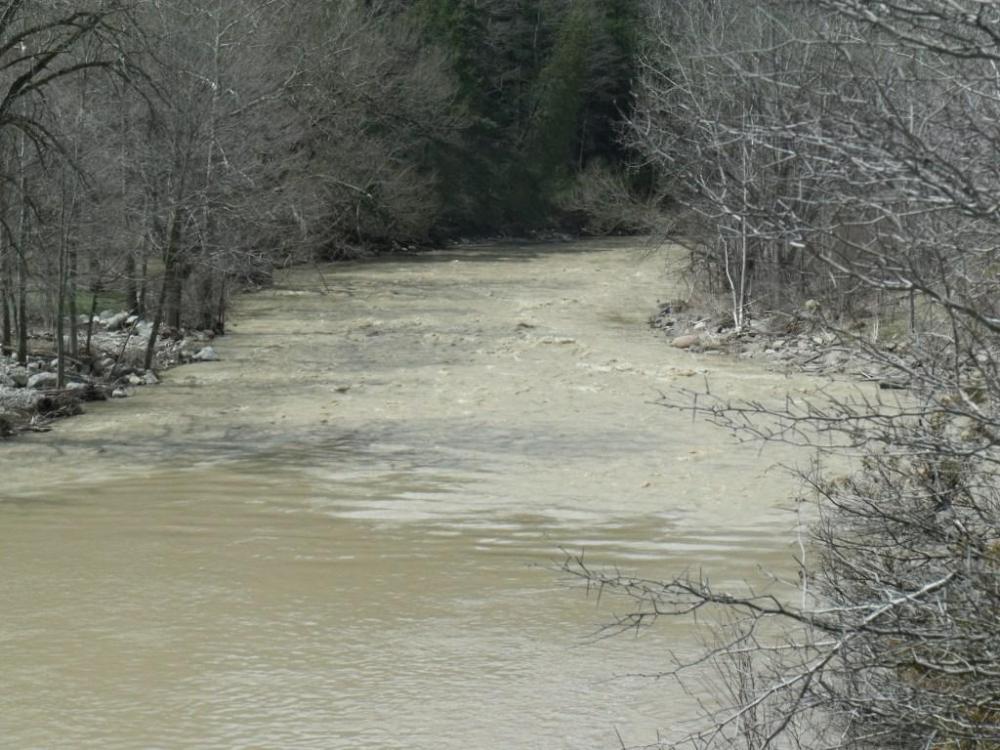 Willows bursting, and a beautiful little patch of Bloodroot (Sanguinaria canadensis) unfurling along the muck-sandy edge of the river.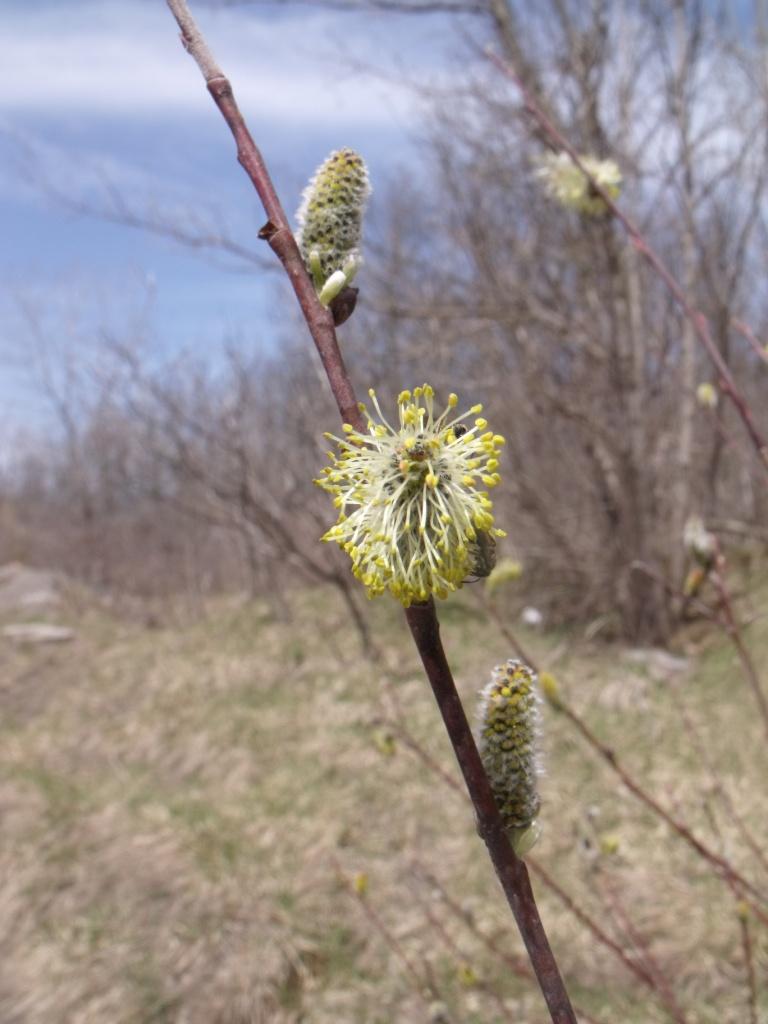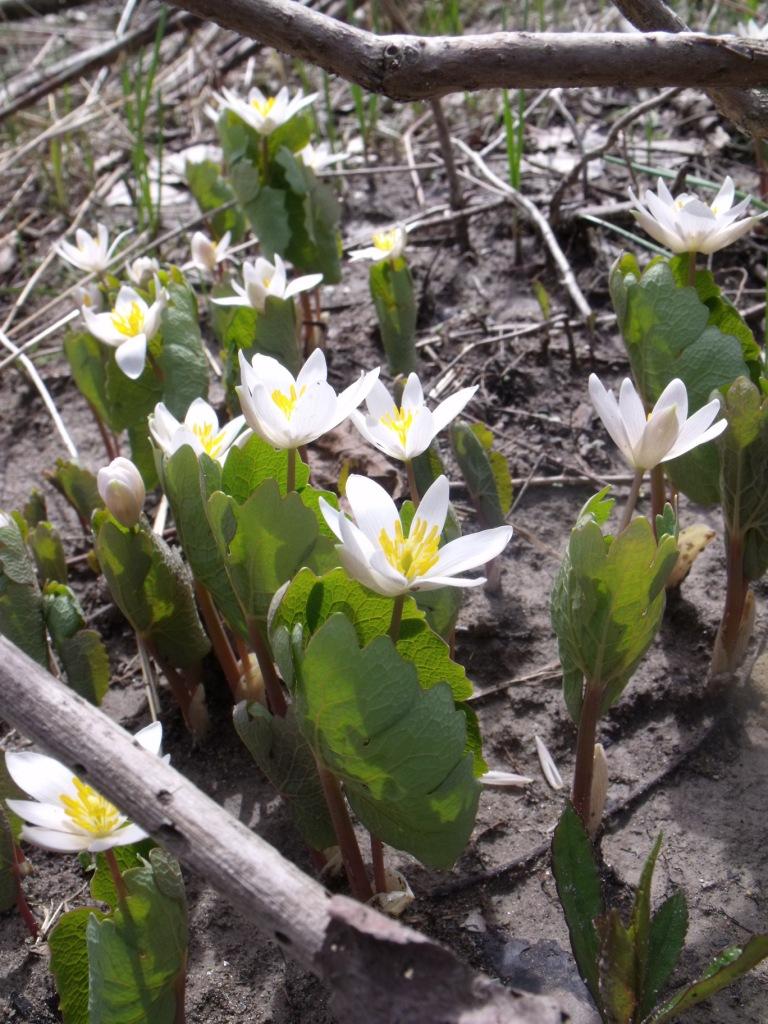 We only found a few blooms of Erythronium americanum in the huge swaths...we were about a week or 2 early. Actually in a 'normal' warm year we probably would have seen them all in bloom by now. Years ago there was a patch of the white strain... I'll have to come back later to see if I can find it.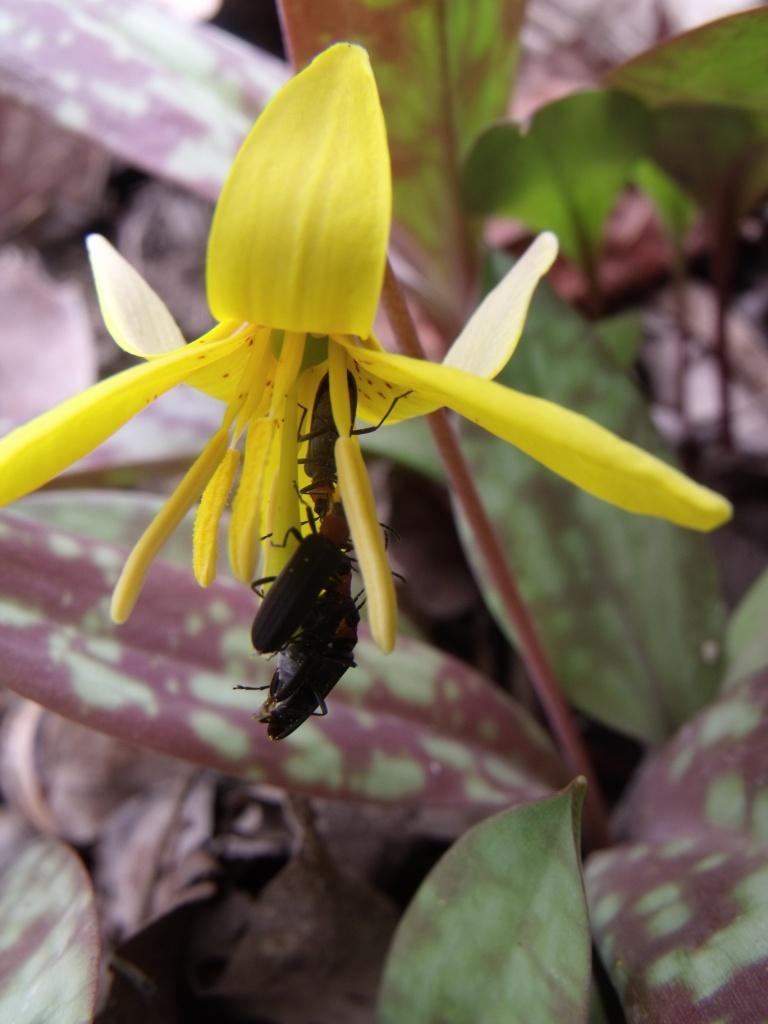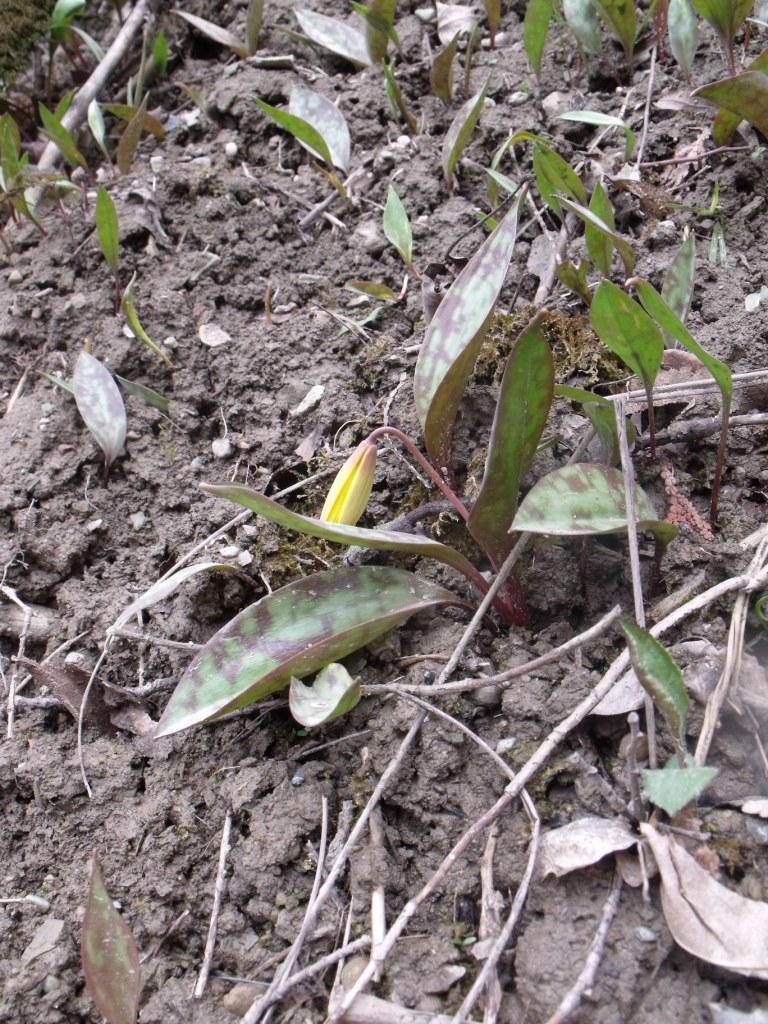 ">
Coltsfoot (Tussilago farfara ) spreads in a huge mass here. I know it's not native, but before the dandelions bloom, it's still a pretty sight.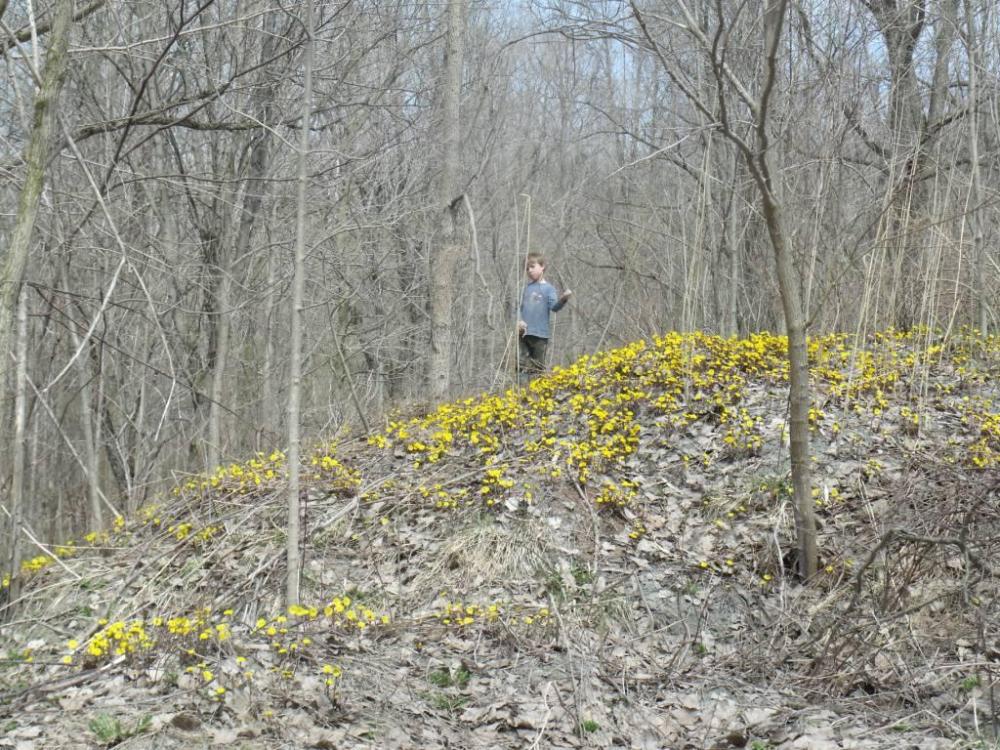 Skunk cabbage (Symplocarpus foetidus) sprouting up in a damp patch along the path. These little bits of green really stand out in an otherwise grey-brown surrounding. If I get back here in a couple weeks, everything will be lush and these will just blend in with all the other greenery.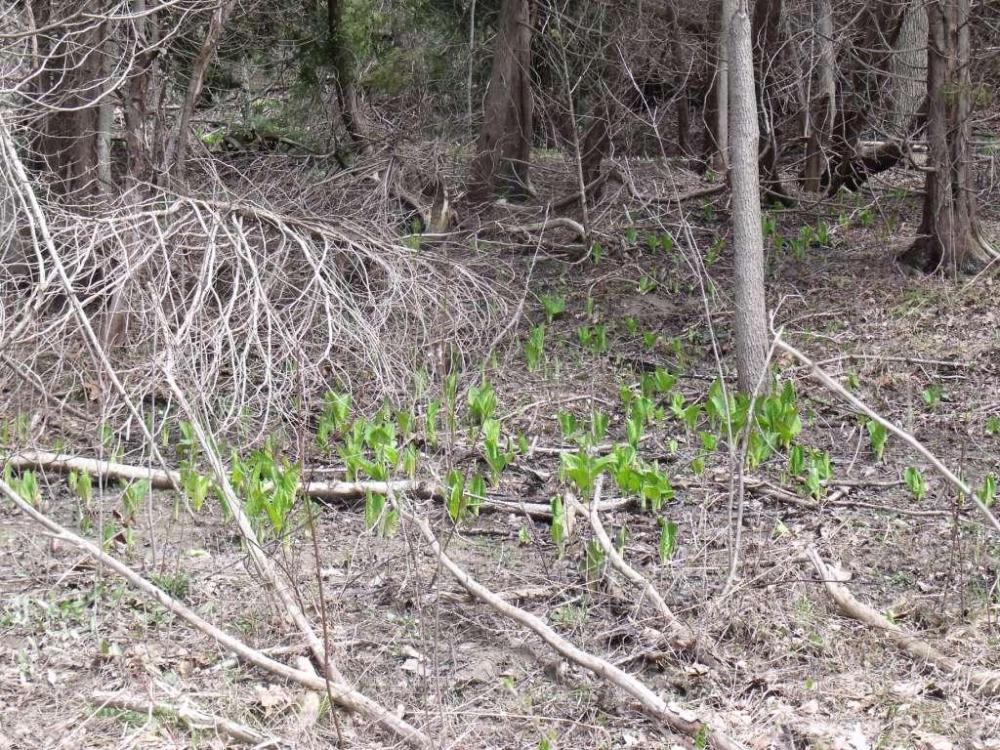 We couldn't' reach the typical spot where we usually 'lunch' on a big rock by the waters edge because of the height of the river that day, so we climbed up the slope and unpacked by a little waterfall under the cedars. this is one of the brachiopods found (I know they aren't rare, but there are a few different species of it to be collected - skinny long ones and short fat balls of them).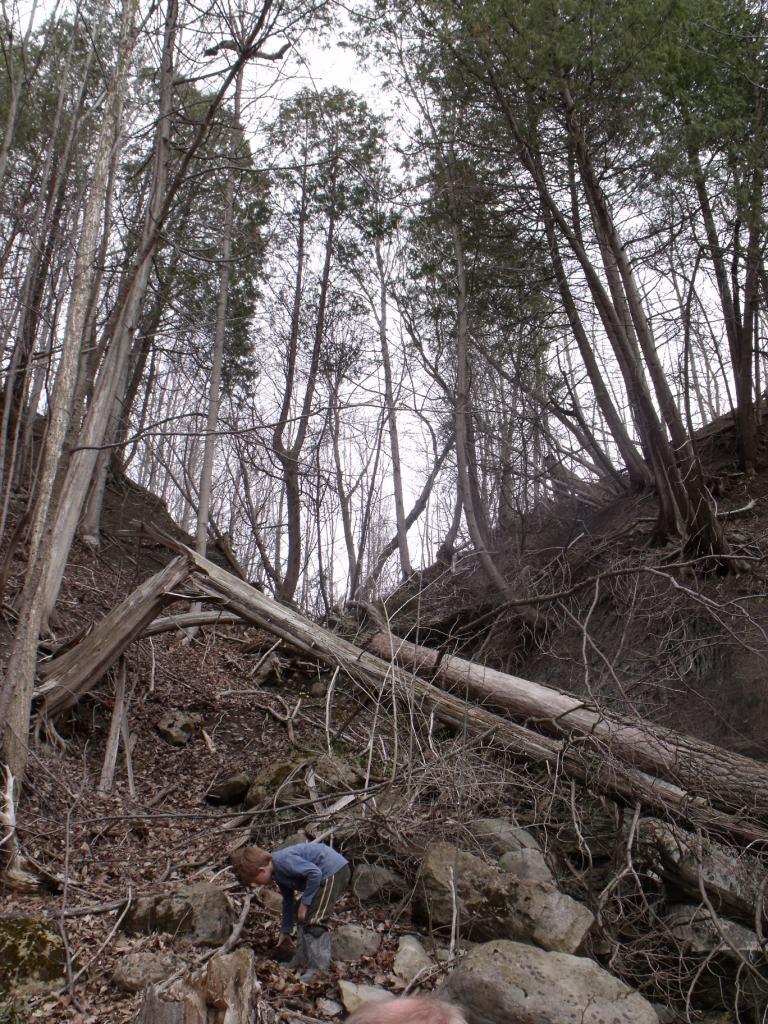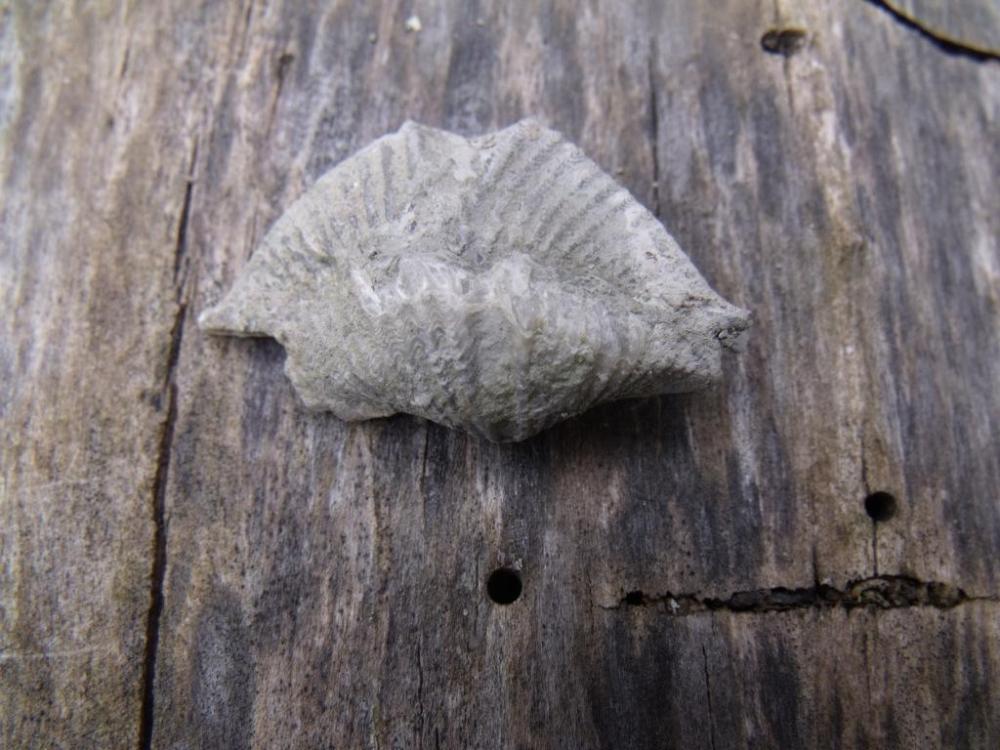 Clay splattered rubber boots. On the way up the river we met a class of University students from Michigan. They were completely unprepared for walking through this muck - as in white running shoes, purses and dress pants. Their professor was undeterred until they all started to 'sink in'.">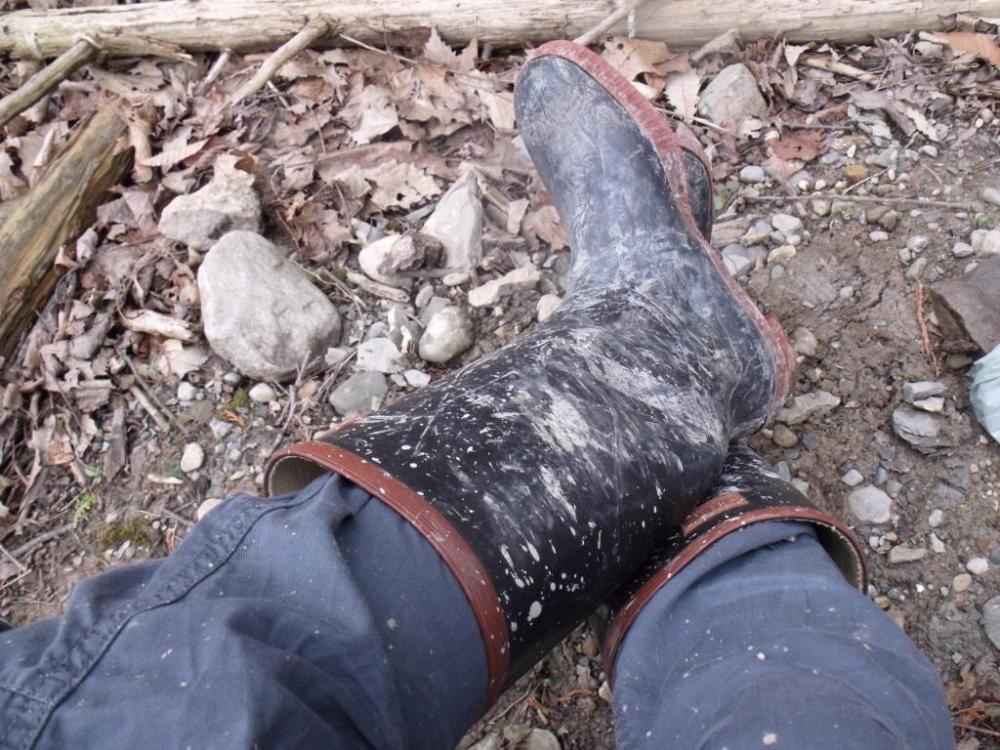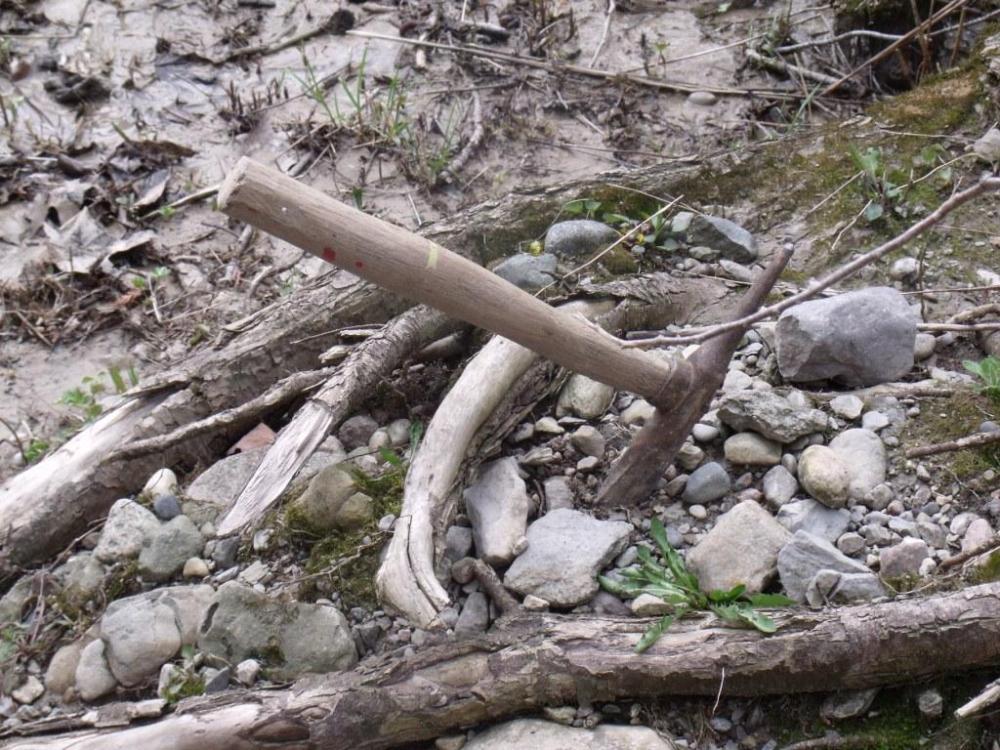 Normally this stream is actually our walking path. I've never seen it flooded, but I guess this is what it's really meant for and then becomes a dry river (a real one, not one of those fake garden ones). Although this is such an interesting and valuable place, it really is only meant to be a clay pit for extraction, not a park in any way. But there is this little spot in the woods where people regularly come to camp and fish, complete with a fire pit and log chairs--Really crude, but I like the unstructured nature of it - just like in the old days, except more beer cans.